How to Access Newly Added Free Fonts on macOS Catalina
Few things give me as much pleasure as the sight of a beautiful text written with beautiful fonts. Although I'm not a designer, collecting a variety of fonts and using them on social networking sites like Instagram has been my penchant. That's the reason I'm so happy to hear that Apple has recently introduced new macOS fonts that can be used system-wide on Mac. In addition to being in large numbers, they are available in popular fonts such as Klim Type Foundry and Commercial Type. If you enjoy using them too, go to learn how to access newly added free fonts in macOS Catalina on your Mac.
How to Access Newly Added Free Fonts on Mac
Recently added fonts are somewhat hidden as they are not downloaded by default. However, you can easily track them down and download them on your Mac. Some of the new fonts that caught my eye are Produkt (8 styles), Proxima Nova (12 styles), Domaine (6 styles), Founders Grotesk (17 styles) and Graphik (18 styles). They are beautifully designed and can be used in many design projects. Enough talk? Let's go with quick steps!
1. To get started, launch the Font book app on your Mac. If it's not in your Dock, just look for it using Spotlight.
2. Now click on Filter from all sources which is located in the sidebar.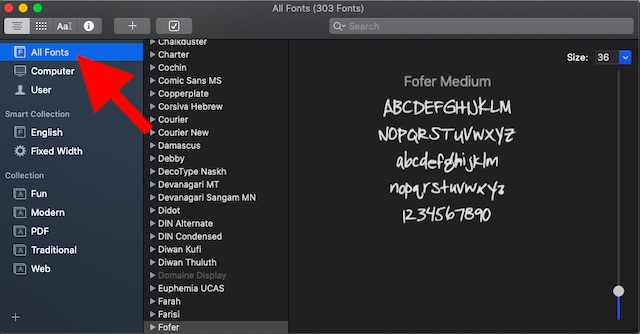 3. Then find the grayed out fonts.
Observation: Fonts that appear to be faded or faded in the Font Book are either disabled or Apple add-ons.
4. Then, after choosing a font, click on the download button in the upper right corner.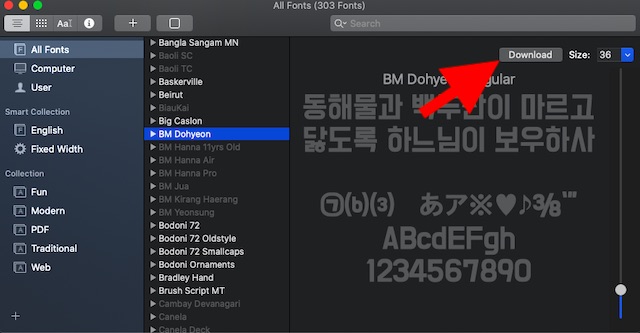 5. Next, a popup will appear on the screen saying something like "The selection includes fonts that must be downloaded to be enabled. Do you want to continue?" click in download to confirm the action.

After successfully downloading the newly added font on your Mac, go ahead and use it as usual.
Well, that was all about the new fonts in the macOS operating system. Here are some other things you should learn about using fonts on macOS:
If you don't need any fonts, you can easily disable it on your Mac. Select any font in the Font Book and choose the Edit menu on the top. Now click on Disable (font name). The disabled font remains installed but does not appear in your apps' font menus.
There is also a way to remove any fonts you no longer need. Select the font in the Font Book and click the button file menu. Then click Remove.
Mac OS supports a variety of font types including variable TrueType (.ttf), TrueType (.ttf), , TrueType Collection (.ttc), OpenType Collection (.ttc), and OpenType (.otf) fonts.
Download Newly Added Free Fonts on macOS
This is the quick way to download the newly added free fonts on macOS Catalina. Now that you know how to unlock these cool fonts, make the most of them to create beautiful text or stunning designs. If you are a professional, I recommend you check out our extensive roundup of free monogram fonts as they can be quite useful for you.