How to Customize the Safari Home Page on macOS Big Sur
While full customization on macOS is still a few years away, Apple seems more willing than ever to finally move in that direction. And what better way to enjoy macOS 11 than to check out Safari and give the default web browser a nice personal touch? For starters, you can customize the Safari home page on macOS Big Sur to your liking.

Based on what suits your taste, you can set a good wallpaper for your Safari homepage, remove bookmarks, and keep privacy reports out of sight. Plus, you're free to even get rid of Siri Suggestions if you find them annoying. Long story short, you have more control over your Safari home screen, and you can choose to set it perfectly in sync with your priority.
Now that you know what's to come, let's dive right in to get started!
Customize the Safari Home Page on macOS Big Sur
We mentioned several customization options. You can click on the links below to jump to the ones you like best, if you don't want to read the entire article:
Remove Clutter from Safari Homepage
To throw Safari on your Mac running macOS Big Sur.
2. Now click on the menu button (three horizontal lines) in the lower right corner.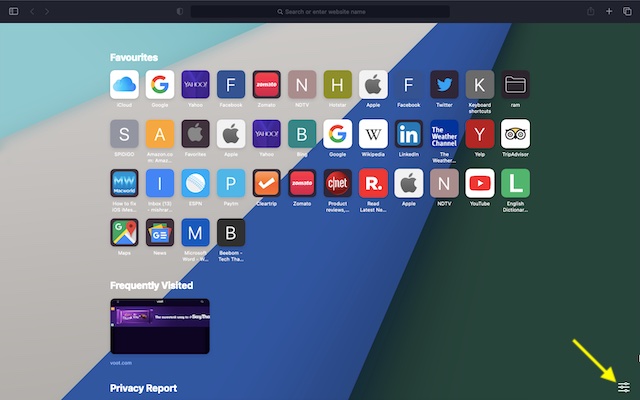 3. Then uncheck the box to the left of each item you don't want to see on the Safari homepage. For example, you can hide/remove various things like bookmarks, frequently visited websites, Siri suggestions, privacy reports, reading list and the background image.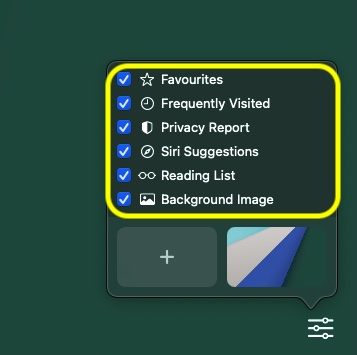 If you want to get them back, all you have to do is come back here and check the box for each item you want to see on Safari's main screen.
Remove specific items from the Safari homepage
If you no longer want to see specific items such as a bookmark, reading list, or specific Safari suggestion, you can choose to remove it from your web browser's home screen.
Delete a specific favorite bookmark
If the bookmark you want to delete does not appear on the main screen, hover over the Bookmarks section and click Show more. Now, right-click on the item in question and choose Delete in the popup.

Remove a specific frequently visited website
If you don't want to show a specific website that you visit often on the Safari homepage, you can easily hide it. Simply right-click the site and choose Delete in the popup. From now on, this site will no longer appear in the frequently visited section.
Remove a specific Siri suggestion
Find the Siri Suggestion you want to get rid of in the Siri Suggestions section. Then right-click on the specific suggestion and choose Do not suggest this site in the popup.

Remove a specific reading list
You should see all of your reading list items in the Reading List section at the bottom of the screen. Right-click on a specific item and choose remove item in the popup.

Set a custom wallpaper for the Safari homepage
Well, this nifty little feature is one of my top picks for Safari on macOS Big Sur. And I'm sure many Mac users would love it too. If you are one of them, set a good photo as a background image for Safari.
On the main page of Safari, click the icon menu button in the lower right corner of the screen.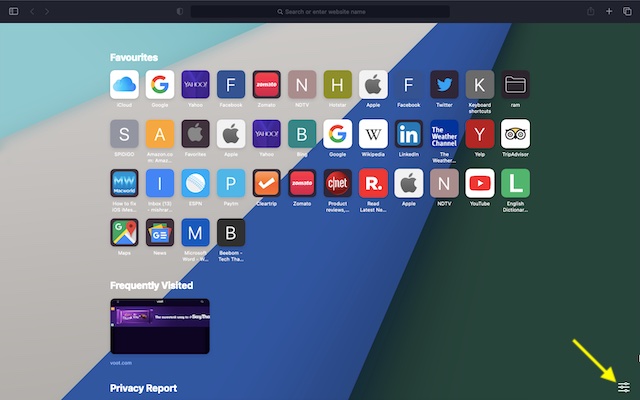 2. Now click on the "+" button.
3. Then select a beautiful image and click Choose.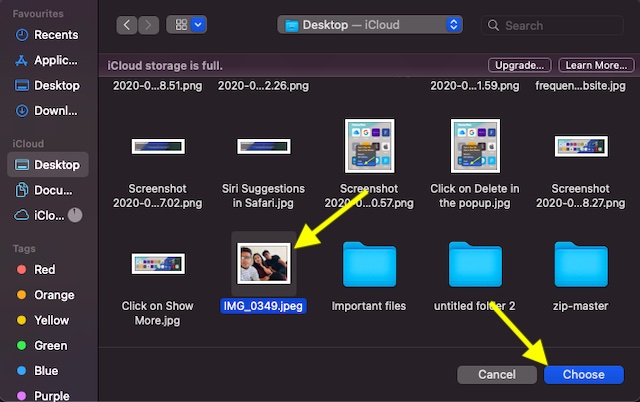 Voila! You have successfully set a nice background image on your Safari home screen.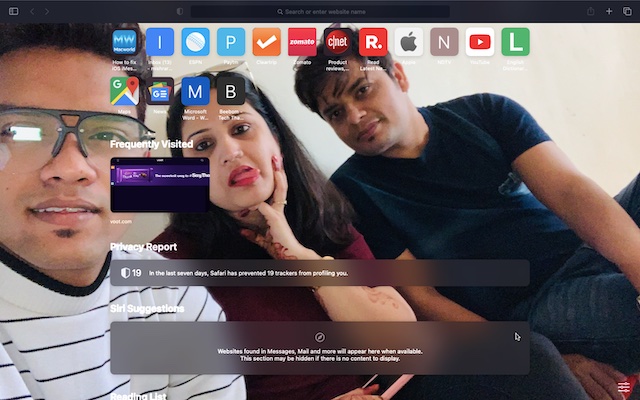 Customize the Mac Safari Home on macOS 11
So this is how you can tweak the Safari main page on macOS 11. Despite being in developer beta, macOS Big Sur is working perfectly on my MacBook. As for the redesigned look, it started to grow on me as it seems to sync up with iOS 14. Features like the Control Center, intuitive widgets, and smarter Siri are some of the biggest highlights of the latest iteration of macOS. What are your top picks in Big Sur? Share your thoughts in the comments below. Also, let us know your two cents on whether or not it's worth upgrading from macOS Catalina.