How to Delete WinSxS Folder in Windows 10
Users who have been using Windows 10 for years are aware that the available disk space of their operating system drive decreases over time for no apparent reason. It gets even worse if you are using your computer for longer without any maintenance. The culprit you are looking for is the WinSxS folder inside the OS drive. Microsoft calls this "Windows Side By Side" or loosely component storage. The folder contains all kinds of system files which are used to fix various issues on your Windows PC. However, the folder size continues to consume crucial space and this is the pain point for most users. So, in this article, I will share an easy way to delete WinSxS folder without affecting your PC's stability. Now that said, let's get started.
What exactly is the WinSxS folder?
Before moving forward, let's go through some crucial points. Firstly, you cannot fully delete the WinSxS folder, but you can definitely reduce its size. The reason is that the The WinSxS folder contains many important operating system libraries and components that are needed to resolve OS-related issues. So, in a way, one should not touch the WinSxS folder as it is there to keep our PC safe and sound.
However, the point is that the WinSxS folder keeps getting bigger over time, and if you've been using a machine for years, the folder would take up about 40% of the OS drive, which is completely insane. So what exactly is going on in that folder? In fact, in addition to operating system components, Windows also keeps update files in the WinSxS folder. So whenever you get a new update, files are downloaded and stored in case you encounter a problem in the future and want to revert to a previous build. Basically, every time you get an update, files accumulate in that folder, resulting in an incredibly larger OS drive size.
It would be wrong to say that Microsoft has not tried to fix the problem. At the moment, Windows 10 comes with an automated maintenance service which cleans up files that were overwritten after one month. However, users report that it doesn't work as intended, so there it is. Anyway, now that we understand the issue at hand, we will follow the steps to reduce the size of the folder in a way that does not harm the stability of your system.
Steps to Clean WinSxS Folder
we will pass a two-step process to complete this task. First, we'll use a built-in tool, and then we'll move on to a manual cleaning method. Now, having said that, let's get started.
Reduce folder size using DISM tool
We will use the DISM tool (Deployment Image Servicing and Management) to clean up the folder. The DISM tool is used to keep the Windows image intact and prepare for recovery environments.
1. Press the Windows key once and type "cmd" in the search box. After that, click on "Run as administrator" in the submenu.
2. When the command prompt window is open, run the command below to check if redundant files are available in the folder. If it says cleaning recommended at the bottom, go to the next step.
dism /Online /Cleanup-Image /AnalyzeComponentStore
3. Now run the second command to finally start the cleaning process. Once the process is complete, you're good to go. The WinSxS folder should free up considerably.
Observation: The process can take some time, so be patient.
dism /online /Cleanup-Image /StartComponentCleanup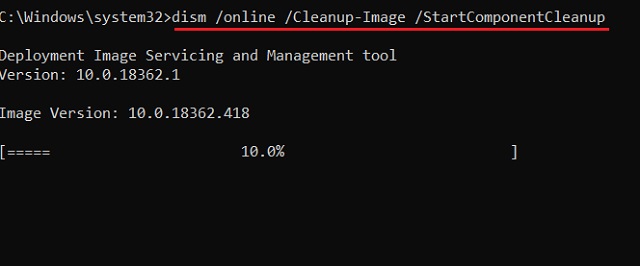 Delete Update Files Using Disk Cleanup
1. Right-click the operating system drive (usually C drive) and open "Properties". Here, click on "Disk Cleanup".
2. Then click on the "Clean up system files" in the lower left corner.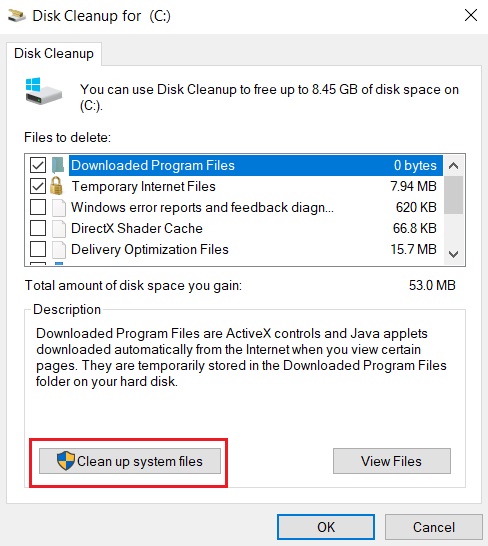 3. Now, uncheck all the boxes and select "Windows Update Cleanup" at the top. After that, click on the "OK" button. Voila, a huge amount of update files in the WinSxS folder will be deleted instantly. Now, restart your PC and you will see that the OS drive takes up less space.
This should free up enough storage on your Windows machine and make it run faster. One thing to note here is that sometimes if the PC is very old it is better to just reset Windows 10 to get a clean start. Remember to backup your Windows 10 PC before going through the reset process.
Delete WinSxS Folder and Reclaim Space
So that was our guide on how to delete WinSxS folder and free up OS drive. The reason Windows slows down after years of use is because these files clog up crucial memory space. So if you want to speed up your computer, shrinking the WinSxS folder would also make a big difference in performance. Anyway, that's all for us. If you want to know more about Windows 10, comment below and let us know.