How to Delete Your Roblox Account Permanently (2022)
Roblox has seen an exponential increase in the number of kids playing on the platform in recent times. However, with the rise in popularity comes increased media scrutiny. Roblox has attracted a lot of controversy, making many parents wonder if the gaming platform is right for their kids. Well, if you are worried about your kid's safety, check out this tutorial to learn how to delete a Roblox account. We will explain some methods you can use to get rid of your kid's Roblox account.
Delete Roblox Account: A Step-by-Step Guide (2021)
More than 50 percent of all American children under the age of 16 are Said to have played on Roblox last year. However, with the rise in popularity, the platform has also seen a disturbing rise in content that is inappropriate for children. And it has been worrying parents a lot about their children's safety while playing seemingly harmful games. Well, to put an end to these worries, we will tell you how to cancel your Roblox premium subscription and delete your kid's Roblox account in this article.
What is Roblox?
Roblox is primarily a sandbox game that is popular for its build your world theme. It is also an online multiplayer gaming platform and a showcase where players can create their own games and team up with others. The online gaming platform allows players from all over the world to come together to face each other in multiplayer games. What sets it apart from other game stores like Steam is that all games on Roblox are made by its users. The company claims that users have published over 20 million games on the platform over the years.
One of the main reasons why Roblox has managed to generate so much interest is that developers can make a lot of money on the platform without much monetary input. While Roblox and all of its games are free, in-app purchases using a virtual currency called 'Robux' often cost hundreds of dollars for each user. Developers receive a share of Robux, which they can convert to real money using Developer Exchange or DevEx. Roblox Corp. (RBLX). It was listed on the NYSE earlier this year and is currently worth nearly $50 billion.
Roblox worries parents about their children's safety
Roblox positions itself as a kid-friendly gaming platform for the most part. However, it often had to face accusations of harboring malicious actors who turned the platform into a dangerous place for children. While Roblox sees kids getting together and enjoying games as they dress up their avatars, decorate their worlds and more, parental complaints have been rampant.
While some parents feel that children are too immersed in the platform, to the point where it interferes in their daily lives, others seem to be concerned about their children's safety online. Many believe that Roblox games can expose their children to predatory behavior and inappropriate content. What many parents and child psychologists also find unacceptable is that teens and tweens are being allowed to create and play games with seemingly no safety net, despite Roblox's public assurances.
roblox it says have "no tolerance for inappropriate content or behavior" and claims to have "a stringent security system in place". It also says that parents can limit words and phrases their children can see and use on the platform. However, some parents feel that this is not enough. It's no wonder that an increasing number of parents are looking for ways to limit their children's time on the platform or completely delete their Roblox account. This brings us to the tutorial you are here for.
How to delete a Roblox account
Now that you've decided to delete your kid's Roblox account, it's time to break the bad news. Roblox does not provide a one click solution, an automated way to delete your account. Instead, you will have to contact Roblox customer support and ask them to delete your account. There are several ways to do this, and here they are:
Method 1: Contact Roblox Support
use roblox online support form to submit your account deletion request.
Email the Roblox support team at [email protected] and request the deletion of your account.
Call Roblox Customer Service at 888-858-2569 to tell them that you want to delete your account.
In all the above cases, you will need to mention your Roblox username and verify your identity including your email ID.
Method 2: Remain inactive for a year
Roblox says delete inactive accounts after 1 year of inactivity to free up space on your servers for new players. This means that if you don't log into your account for 365 days, it will be automatically deleted. So, if there is no specific urgency to delete your account, simply remain inactive and forget about your Roblox account for a year. Must ensure that your Roblox account is permanently deleted.
If you're not having any luck with your deletion request and a year is too long to wait, you can go the old way. By that I mean you can intentionally break Roblox Terms of Service to be booted from the platform with immediate effect. It is clear, we do not recommend this method at all. However, even if any of you brave ones want to go down that path, make sure you don't do anything that might be illegal in your territory. The last thing you want is legal trouble.
Please note that once deleted, you will not be able to recover your Roblox account information. As per company policy, Roblox does not restore deleted accounts. So think hard before pulling the trigger.
Unsubscribe from Roblox Premium
If you want to cancel your Roblox subscription instead of permanently deleting your account, you can do so by going to the Settings menu. You can do this on both desktop and mobile. See how:
Method 1: From the Roblox website
Log in to the Roblox website and click the button gear symbol at the top right corner. then select Definitions in the drop-down menu.
After that, click Charge in the left sidebar. Finally, click 'cancel renewal' and confirm your decision when prompted.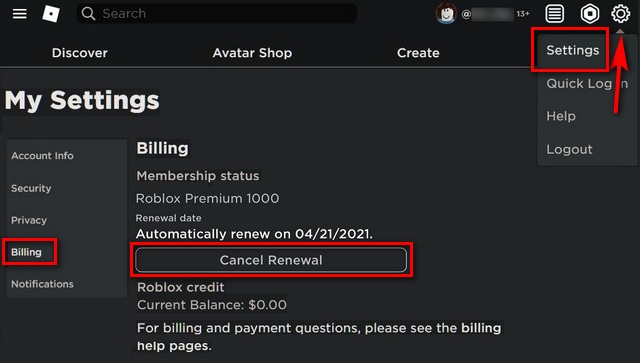 Method 2: Using the Roblox Mobile App (Android, iOS)
Open the Roblox app on your phone and tap the button three point menu in the lower right corner. Then scroll down a bit and select 'Definitions'.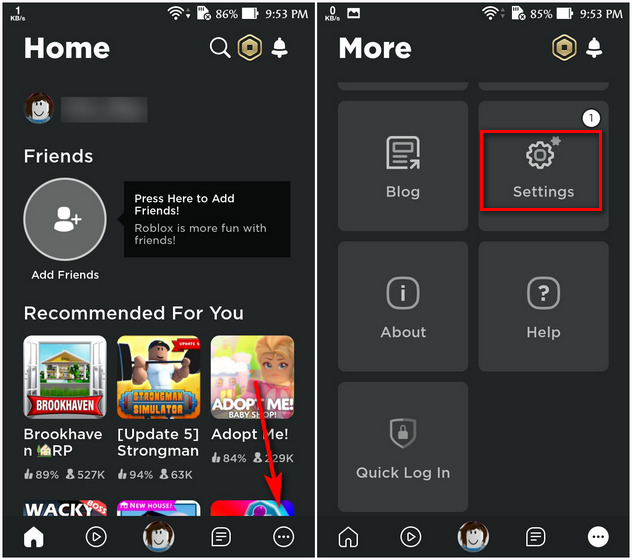 Next, go to Charge. On the next page, tap 'cancel renewal' to end your Roblox membership. Confirm your decision when prompted, and you're done.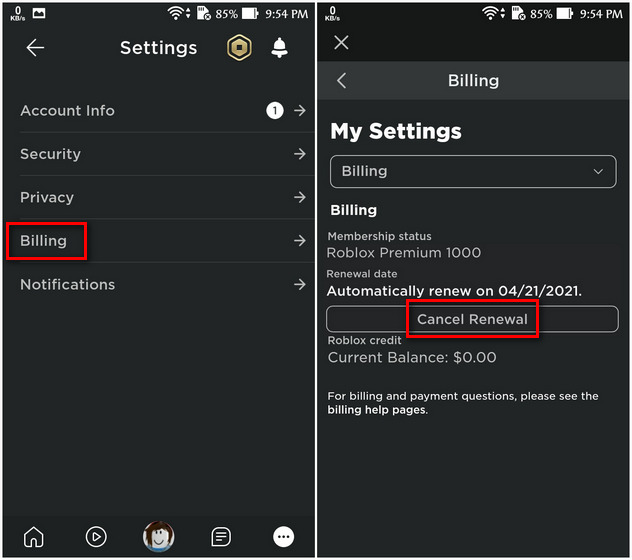 Delete Roblox to protect your kids from inappropriate content online
Despite all the controversies, Roblox remains a great platform for gamers. However, the continued rise of inappropriate content is a disturbing trend that the company has failed to address so far. One would expect things to change for the better going forward. But if they don't, now you know how to delete your Roblox account for the safety of your kids online. If you decide to get rid of Roblox, check out the best games like Roblox you can play in 2021. Roblox is also available on Chromebook, but you can check out the best Roblox alternatives for your Chrome OS device.