How to Disable Notifications in Windows 10 [Guide]
Notifications on your PC and smartphone can help you stay on top of the latest happenings at work and among your friends. However, they can also be highly annoying as they can hamper your workflow, appearing repeatedly at the most inopportune times. So today, we show you how to change notification settings so that you can disable, block, disable or mute notifications on your Windows 10 computer forever.
Turn off notifications on your Windows 10 computer
While notification pop-ups on your computer can be a huge nuisance, the good news is that you can disable them in Windows 10 in a few simple steps. Here, we'll show you how to change notification settings in Windows 10 so you can focus on your work without unnecessary distractions. We'll also show you how to selectively allow notifications from any specific app while blocking all others. So without further ado, let's check out how to disable, block, disable or silence notifications on your Windows 10 computer.
Turn off all notifications on your computer
You can disable, block, mute or disable all notifications on your Windows 10 computer in bulk. Here's how you do it:
Go to Windows Settings by pressing the Windows key + I simultaneously on the keyboard. Now click/tap on 'System'.
Then select 'Notifications & Actions' in the left pane and turn off 'Get notifications from apps and other senders'.
Now scroll down and individually uncheck the remaining notification options, including 'Show me the Windows welcome experience…', 'Suggest ways…' and 'Get tips…', etc.
Allow notifications from critical apps
The above actions will turn off, silence, block or disable notifications for all apps on your Windows 10 PC. However, you may need to allow your alarm notifications to work as expected on your computer. You might also want to whitelist one or two specific apps while blocking the rest. Here's how you do it:
Keep the main notification toggle 'On'. Now scroll down to 'Get notifications from these senders' and turn off toggles for apps you don't want notifications from. In my case, I turned off notifications for all apps except Signal Messenger.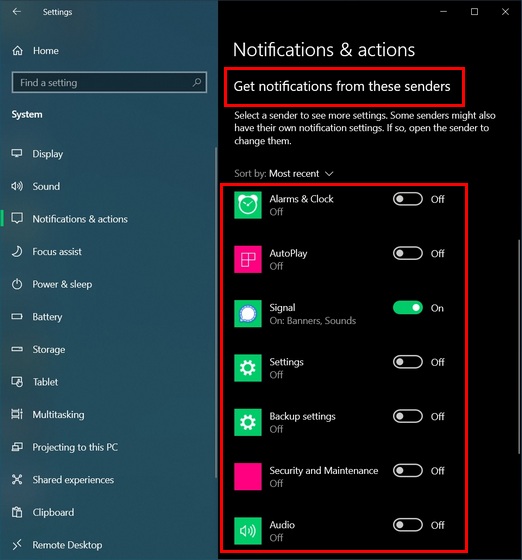 Temporarily mute/disable notifications via 'Focus assistance'
Windows 10 also comes with 'Focus Assistant Settings' to reduce distractions while you work or play video games. This will allow you to temporarily mute notifications without turning them off completely. Here's how you do it:
Go to 'Settings > System' as described in the first step of this tutorial. Now click/tap on 'Focus Assist' on the left pane and click on 'Customize your priority list' on the right.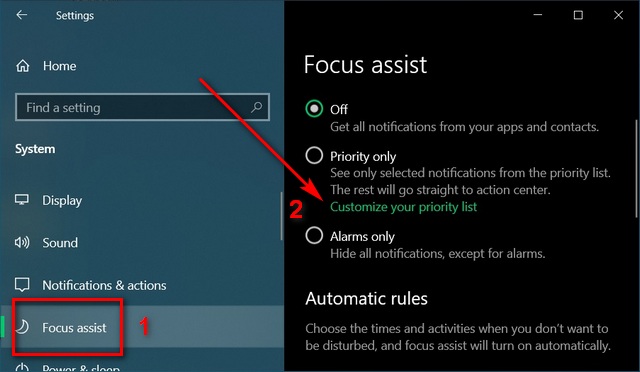 Here, you can specify exactly which notifications you want to see from which people and from which apps.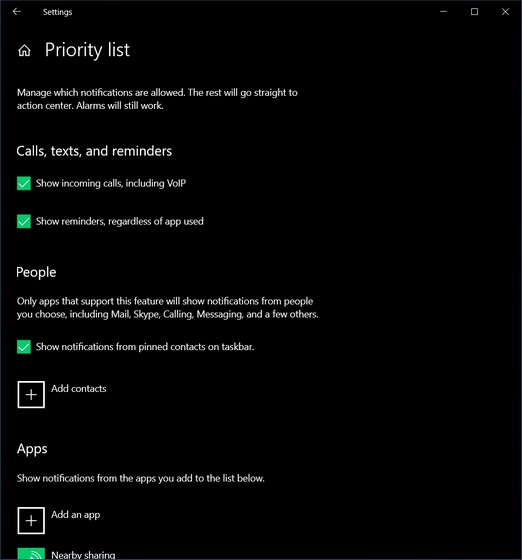 Observation: The default setting for Focus Assist is 'Off', which means you get notifications from all apps and services. You can select 'Priority only' to see only priority list notifications or 'Alarms only' to hide all notifications except alarms.
You can also scroll down the previous page to create your own automatic rules. For example, you can hide notifications during certain times of the day when you are playing games or running an app in full screen mode (like watching videos, streaming movies, etc.).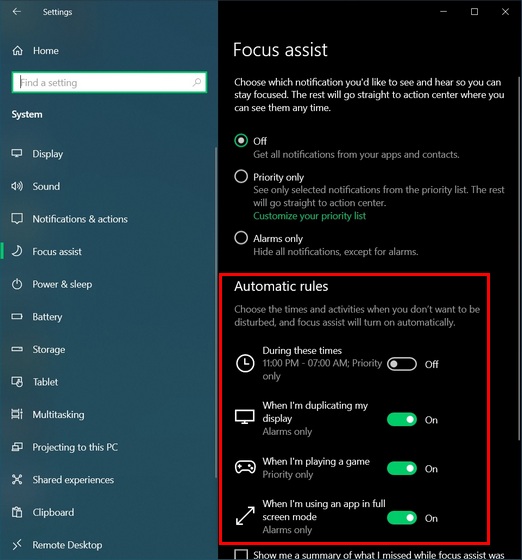 Disable lock screen notifications
Windows 10 still allows some apps to show notifications on the lock screen. While it might be useful for some users, the vast majority of us find it annoying. To disable, turn off, block or silence lock screen notifications, follow the guide below:
Go to Settings (Windows key + I) and select 'Personalization'.
In the left pane, click/tap 'Lock screen'. Then click on the icon under "Choose an app to show detailed status on lock screen".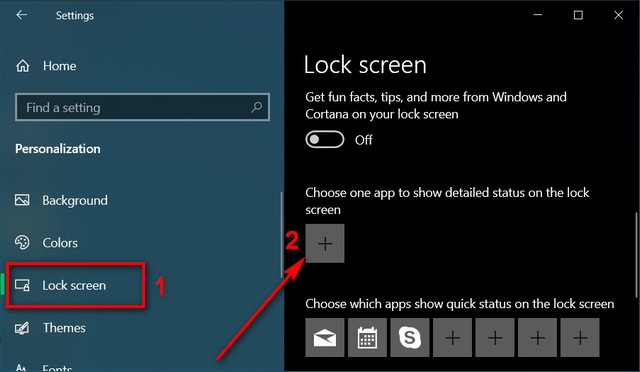 Select 'None' from the pop-up options to ensure that no apps show detailed notifications on the lock screen.
Now focus your attention on 'Choose which apps show quick status on lock screen'. To remove an application from this list, click its icon here and select 'None'. Repeat for all other apps if you don't want any Windows 10 lock screen notifications.
Dismiss Action Center notifications
Notifications stacking on top of each other in the Action Center it can be a big headache. However, you can easily handle this as described below:
Click the Action Center icon in the lower right corner of the Windows Taskbar.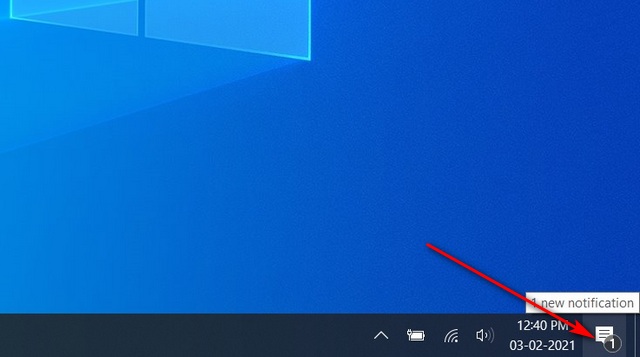 In the slide-out panel, click the 'X' button that appears in the top right corner of the notification tile when you hover your mouse cursor over it.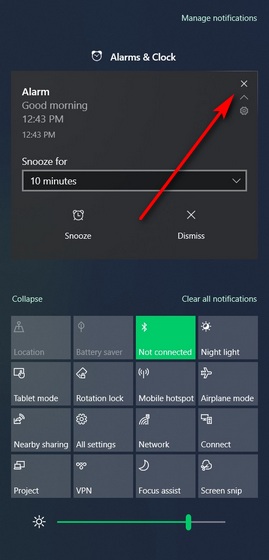 Disable advertising notifications
Windows 10 contains a lot of built-in advertising, many of which even send pop-up notifications. You can disable all these notifications, and indeed all ads on your computer, by following our guide on how to remove ads in Windows 10.
Turn off notifications and work without distractions on your Windows 10 computer
Windows 10 comes with far more built-in notifications and advertising than any of its predecessors. However, it also gives users the option to change notification settings to handle them more effectively. Now that you know how to change notification settings to turn off, mute, block and disable annoying notifications in Windows 10, go ahead and make these changes to ensure a less disruptive experience on your PC while working, playing games or streaming movies.
When you're done disabling notifications, you can also check out our Windows 10 tips and tricks, how to use God Mode and how to use PowerToys in Windows 10 to get even better control of your computer. Also, don't forget to check out our tutorial on how to easily disable User Account Control (UAC) in Windows 10 to avoid even more annoying pop-ups and distractions on your computer.