How to Fix MacBook Overheating After macOS Monterey Update
Recently, several users have reported that their MacBook unexpectedly overheats after updating macOS Monterey. Sometimes the laptop gets so hot that you have to turn it off right away. Having faced this issue on my MacBook Air, I can confirm that it has been a troubling issue on macOS 12. So what are the solutions to fix MacBook overheating issue after installing macOS 12 Monterey update? Well, I have listed some workable tips and tricks that work to prevent your MacBook from getting too hot. So be sure to try them out before you knock on Apple Support's door.
Fix MacBook overheating issue after macOS Monterey (2021) update
Considering the nature of the problem, let's first take a quick look at the reasons that could be causing your MacBook to overheat! Once that's done, let's see the ways to fix this common macOS Monetrey issue.
What causes your MacBook running macOS Monterey to overheat?
While it's not uncommon to have overheating issues on older MacBooks after a software update, it can become a concern if they persist for several days. More so when your relatively new device tends to heat up frequently. From what I can tell, MacBook overheating issue on macOS Monterey could be due to three main reasons.
less capable hardware
If your MacBook hardware is less capable, it will be difficult to deal with the latest software. Whenever there is a clash between worn out hardware and the latest Apple software with modern features, you are likely to end up facing annoying issues like overheating, slowdowns, and the terrible battery draining issue on macOS.
While it's always a pleasure to be on the cutting edge of technology, you should never lose sight of the downside, especially when dealing with older (5-6 years) hardware.
cluttered storage
Cluttered storage is harmful to the health of a MacBook (or any device). Things like app backups, files hogging storage, outdated software, persistent malware, piles of useless screenshots/images and videos can affect even modern hardware – let alone a decade-old device. So yes, you need to keep your MacBook storage organized to avoid overheating after the latest macOS Monterey update.
Random software bug
A few years ago, I would have thought twice about blaming software bugs for most problems with my MacBook. However, the landscape has changed dramatically in recent years. So much so that macOS (along with iOS) is now marked as a hotbed of bugs. Seriously, I'm not kidding about this. If you are experiencing issues with your iPhone after iOS 15 update, check out our dedicated guide to common iOS 15 issues and solutions right away!
Best Tips to Fix MacBook Overheating Problem on macOS Monterey
Now that we've recognized the usual suspects, it's time to look for possible solutions to fix your MacBook overheating problem.
1. Make sure to force quit inactive apps
If an app is no longer in use, be sure to force quit. This is done to prevent an app from running continuously in the background and consuming your battery unnecessarily. To do this, follow the steps below:
click on the apple menu in the upper left corner of the screen and choose force close. After that, select the apps you want to close and click on force close.
2. Update all apps
There are several reasons why you should keep apps up to date. For those uninitiated, updated apps are more optimized, more secure and also consume less battery. Considering the fact that MacBook battery drain and overheating issues are interconnected, make sure you update all apps on macOS Monterey from time to time.
go to the Mac App Store -> Updates section. Then update all apps at once or do it one by one as per your convenience.
3. Use Safari instead of Google Chrome
While Google Chrome has long been my favorite browser on all platforms, including macOS and iOS, I suggest switching to Safari whenever you experience issues like overheating and battery drain. It's no secret that Chrome is resource-hungry and often proves too much for an old MacBook.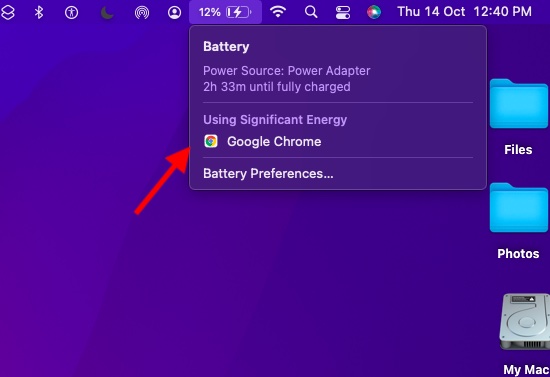 On the contrary, Safari is more efficient and better optimized for the Apple ecosystem. So, if overheating continues to be a concern on your MacBook running macOS Monterey, try switching to Safari from Chrome. Now, when switching browsers, you can bring all your bookmarks and saved passwords into Safari. To do this, follow the steps below:
Fortunately, it's easy to import all your bookmarks and saved passwords from Chrome into Safari. Click File -> Import from -> Google Chrome (or another browser).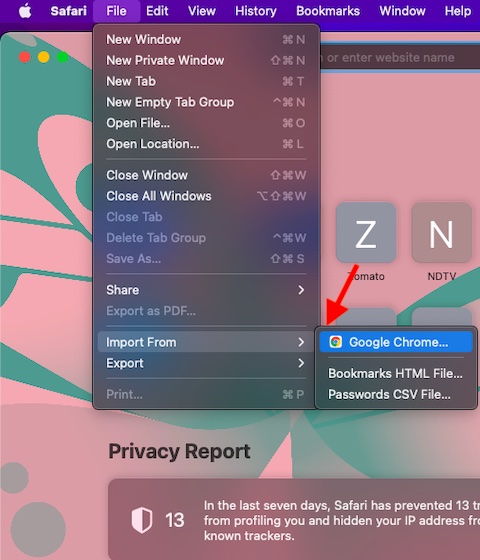 4. Make sure your charger is not damaged
A damaged or uncertified charger is equally responsible for MacBook overheating issues. While most chargers claim to have protections against threats like overheating and short circuits, very few of them are able to talk. So make sure you only choose certified chargers. In addition, you must also ensure that your existing charger is not damaged.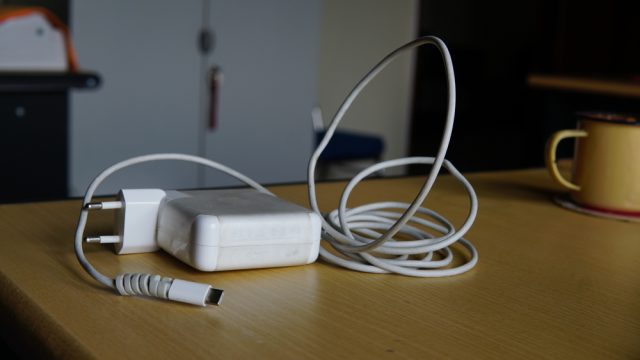 5. Restart your MacBook
No solution has worked for you so far? Don't worry as we still have a handful of reliable solutions to fix MacBook overheating issue after installing macOS Monterey update. This time, let's restart the MacBook. Yes, sometimes all you need to do to keep your notebook from getting hot is to give it a quick reset.
To do this, click on apple menu icon in the upper left corner and choose Restart. After the notebook restarts, use it for some time to check whether it is still overheating or not. You should have made the best of the problem by now.
6. Reset PRAM and NVRAM
If the overheating issue persists on your MacBook, try resetting the PRAM and NVRAM. Since it doesn't harm any media or personal data, you shouldn't worry about losing anything.
Firstly, turn off your Intel-based MacBook and turn it on.
Then press and hold the Command, Option, P and R keys immediately after hearing the startup sound.
Be sure to hold these keys until your notebook restarts and the start-up sound is heard again.
Observation: Please note that there is no way to reset NVRAM/PRAM or SMC on MacBook Pro M1/M1 Pro/M1 Max. Although Apple M1 MacBooks have parameter memory, Apple has not included any commands to reset NVRAM. The Cupertino giant claims that the M1 chip is fully equipped to handle PRAM-related issues.
7. Run the hardware test
Apple Diagnostics (formerly Apple Hardware Test) can help you check your MacBook for hardware problems. So, try running a hardware test to find out if there are any hardware related issues with your Mac.
Firstly, turn off your MacBook. Then make sure your macOS device is on a flat surface with adequate ventilation.
On Macs with Apple Silicone: Turn on your Mac and hold down the power button while your Mac starts up. Release the power button when the boot options window (gear icon labeled Options) appears. After that press the keyboard shortcut Command (⌘)-D on your keyboard.
On Macs with an Intel processor: Turn on your Mac and immediately press and hold the D key on the keyboard when the system boots. Be sure to release the key when the progress bar appears or when prompted to select a language.
Now, Apple Diagnostics will start checking your Mac for potential hardware issues. You should see a progress bar on the screen. When the test is complete, Apple Diagnostics show the results with one or more reference codes.
If you see PPF001, PPF003 or PPF004, there may be a problem with the fan. Considering how the fan plays a key role in keeping your device temperatures in check, there is a high chance that the malfunctioning fan is causing your MacBook to overheat and not the macOS Monterey update. If this is the case, contact Apple Support for assistance.
Now, if you want to repeat the test, click "Run the test again" or press Command-R. To restart your Mac, you need to click Restart or press R.
8. Clean up your MacBook's storage
Cluttered storage is the mother of several problems, including overheating, on MacBooks. So, if you haven't cleaned out your MacBook's storage in a while, there's a good chance that clogged storage is making your notebook's life difficult.
macOS Monterey offers a better way to track storage consumption and also easily track the files that consume storage. So reducing clutter is never a big deal.
click on the apple menu in the upper left corner of the screen and choose About this Mac. After that, select the Store tab and click To manage.
Then macOS Monterey will present a detailed breakdown of how storage is consumed by different categories such as Photos, Apps, Messages, Documents and more. In addition, there is also an option to review the files that overload your storage and easily remove them.
9. Update your Mac
Software updates come with many bug fixes and performance improvements. That's the reason why I always recommend that you keep your software updated to the latest version. If none of the above tricks help to fix the overheating issue, then the problem could be due to a software bug. Therefore, updating the software may resolve the issue.
start the System Preferences app on your Mac and go to the software update section. Now, download and install the latest macOS Monterey update.
Pro tips to prevent your MacBook from getting hot
That's it! Fortunately, your macOS Monterey-supported MacBook has started to behave normally and is no longer overheating like crazy. In most cases, you can keep your laptop from getting hot by cleaning up storage clutter and keeping all your apps up to date. If these basic tips don't work, you should never fail to run a hardware test to get to the root of the problem. By the way, do you have any questions on this subject? If so, be sure to let us know in the comments section below, and we'll help you out.