How to Take a Screenshot on a Mac (Guide)
macOS Mojave brings several new features that enhance the entire macOS experience and make it more productive and enjoyable to use. My favorite feature of macOS Mojave is the new dark mode, which allows me to work late at night without having to strain my eyes too much. Like the new dark mode, macOS Mojave focuses more on enhancing features that previously existed rather than introducing new features of its own. If you are wondering how to take a screenshot on a Mac and wondering if there is a print screen feature for Mac, you will be happy to know that there are several different ways to take screenshots on Mac that you can try. So, let's take a look at how to take screenshot on Mac:
How to Take a Screenshot on a Mac
The ability to take screenshots has been a part of macOS for as long as I can remember. With macOS Mojave, Apple has improved this feature, allowing users to not only quickly take screenshots, but also annotate them.. In this article, we will not only see how to take screenshots on Mac, but also how to change the screenshot format, change its default destination and much more. So let's crack, shall we?
How to Take a Screenshot on a Mac Using Keyboard Shortcuts
As I said, macOS Mojave makes taking screenshots a lot easier. Longtime macOS users will remember the old capture tool that was used to take screenshots. In macOS Mojave, Apple replaced the Grab tool with a new tool called "Screenshot". You can launch the app to gain access to various screen capture tools or use keyboard shortcuts to access them. Since keyboard shortcuts are so much faster, we'll show you how you can use them to quickly capture screenshots:
1. How to capture Mac Desktop screen (full screen)
If you want to take a screenshot of your entire desktop or your Mac screen, all you have to do is use the keyboard shortcut Command+Shift+3. After using this keyboard shortcut, macOS Mojave will automatically take a screenshot for you.
2. How to take a screenshot of a part of the screen
If you don't want to capture an entire desktop and just want to take a partial screenshot on Macjust press the following keys:
After clicking on the shortcut, you will notice that the mouse pointer has turned into a small screen capture tool. Just drag to cover the area you want to capture a screenshot of and drop it. It will automatically take a screenshot of that area.
3. How to screenshot a Mac window in macOS Mojave
While you can use the second method we discussed above to take a screenshot of an application window, there is a much easier method of doing this. Using this method will not only be faster, but you will also get a more accurate screenshot. To use this method, just do the following:
Press command + shift + 4
When the screenshot tool appears, press the spacebar.
Your cursor will now change into a camera and the app you hover your cursor over will have a blue overlay.
Just move your cursor to hover over the window you want to capture on your Macbook and click on it.
After doing this, it will automatically capture the screenshot of the application window as shown in the image below.
How to launch the macOS Screenshot Tool
While the keyboard shortcuts above are easy to remember, if you forget them, you can also use the macOS screenshot tool. There are two ways to do this:
Open Spotlight and launch the screen capture app.
Or you can press command + offset + 5 on your keyboard.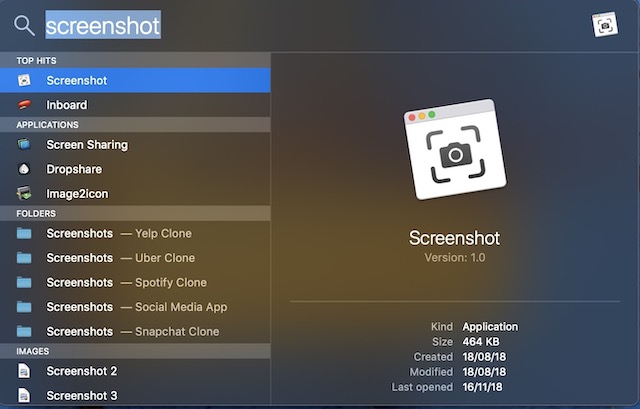 After launching the app, you will notice that there are five different buttons available. You can easily see what each button does by hovering the cursor point above each icon. From left to right, these buttons serve the following purpose:

Capture full screen (same as Command+Shift+3)
Capture selected windows (same as Command + Shift + 4 + Spacebar)
Capture selected part (same as Command+Shift+4)
record full screen
record selected part
The first three are screenshot features that most of us will use frequently, and I've already discussed them in the previous section. The fourth and fifth options are to record your screen instead of taking a screenshot. This is great if you want to easily create a video tutorial for someone. Note that there are no keyboard shortcuts attached to these features and you will have to launch the macOS screenshot app to access them.
Use timers to take a screenshot on a Mac
There are situations where you need to take a timed screenshot. Whatever your reason for wanting to use a timer to take a macOS screenshot, you can easily do it in macOS Mojave.
start macOS Screen capture tool and click on "options."
Select the timer duration. You can set a screenshot timer for 5 seconds or 10 seconds.
When you're done, just click Capture.
That's it, macOS Mojave will automatically take the screenshot once the timer expires.
How to Annotate Screenshots in macOS Mojave
Now that we've learned how to take a screenshot on a Mac, let's see how you can annotate the screenshots you take. On macOS Mojave, you will notice that whenever you take screenshots, a small window will appear in the bottom right corner of the screen just as shown in the image below.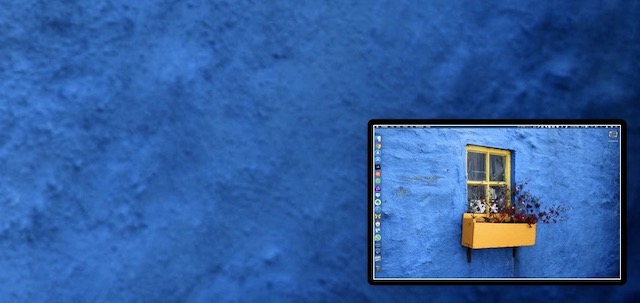 To annotate a screenshot, just click on the window and it will open the screen annotation tool. Here you can see the toolbar at the top and use it to annotate the screenshot as much as you like. Once you're done, just tap the "Done" button to save the screenshot along with the notes.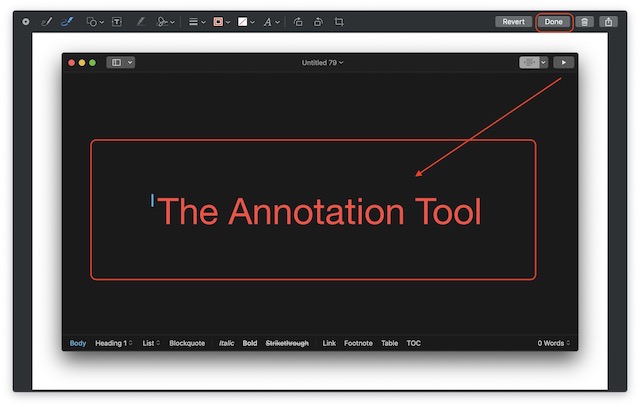 How to Change Default Screenshot Location in macOS Mojave
macOS Mojave has also made it easy to change the save destination of screenshots you take. By default, all your screenshots are saved to the desktop, however, if you don't want to clutter your desktop, you can change your macOS screenshot destination quite easily. Just follow the steps below:
Launch the screenshot tool launching the Screenshot application or using the keyboard shortcut Command+Shift+5.

2. Here, click the Options button. You will see that several options are presented, the first being "Save in". To change the save location, you can select from the presented options or click on the "Other location" option to select your own location.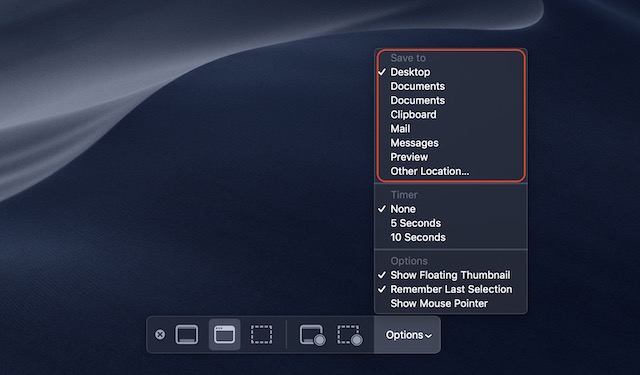 How to Change Screenshot File Format in macOS Mojave
Changing the screenshot file format in macOS Mojave is not something you can do using the macOS screenshot tool. Instead, we'll use the Terminal app to do this. Here's how you can change the screenshot format from PNG (the default format) to anything you want. For this tutorial I will change the format to JPG.
Open the terminal, paste the following command and press enter/return.
defaults write com.apple.screencapture type jpg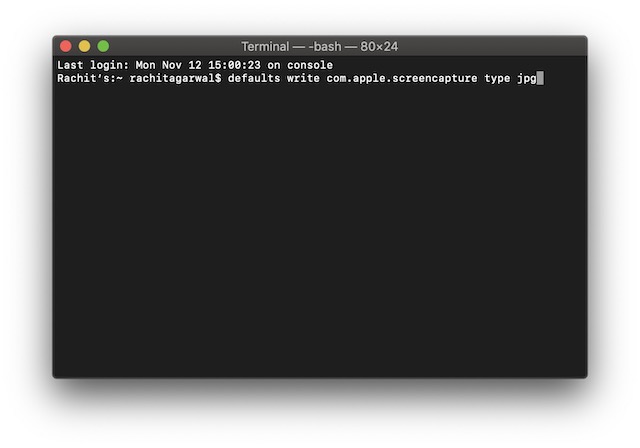 Okay, your screenshots will now be in JPG format. If you want to revert to PNG, just replace the word "jpg" with "png" in the terminal command and repeat the process. Likewise, you can change the format to PDF using "pdf" in the command and so on.
Best Third-Party Apps to Take a Screenshot on a Mac
While the included screenshot tools are sufficient for most macOS users, some people prefer to use a dedicated third-party tool that offers extra features. apps to take screenshots on macOS Mojave:
1. Monosnap
Monosnap is my favorite third-party screen capture app as it is very powerful and completely free. The app sits in your menu bar allowing you to easily capture screenshots of your desktop, app or anything else you want. My favorite thing about Monosnap is that the screenshot automatically opens in an editor window, allowing me to quickly change the filename, file format, and add annotations if needed. If you are looking for a third-party screenshot tool, you should definitely give Monosnap a try.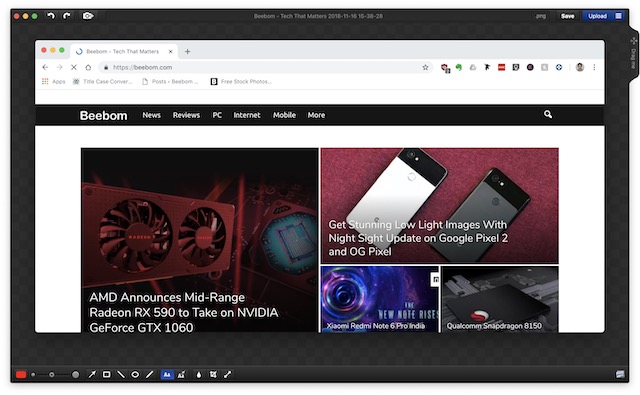 Install: (Free)
2. Snagit
If you are looking for a really powerful macOS screenshot tool to help you in your professional work, then Snagit is the one to look out for. Although premium priced, Snagit is an all-in-one tool for all your MacBook screenshot needs. The application not only allows you to capture the entire desktop, a part of the desktop and application windows, but also lets you capture entire web pages thanks to the scrolling screenshot feature. The app also comes with a built-in editor that allows you to fully edit the screenshot. I'm not just talking about annotation here; Snagit offers a complete image editing system. The application also allows you to perform a screen recording of your desktop. If you are a power user and need something that can match your workflow, this is the app to get.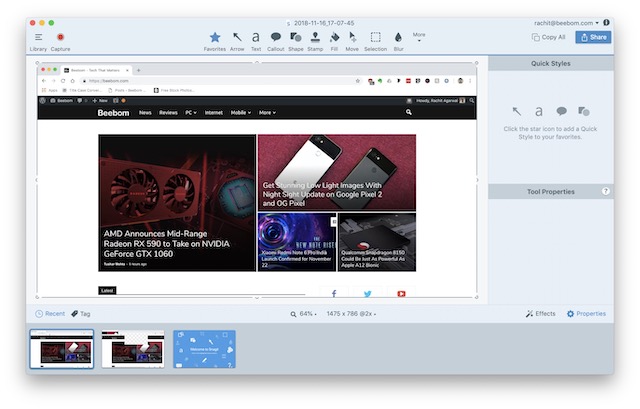 Install: (Free trial$49.95)
3. SnapMotion
The final app on this list is a little different than your regular screenshot tool. The app basically allows you to take screenshots of a video which is very useful for people who need to do this regularly. With SnapMotion, you no longer need a video to play and align your tool correctly and so on. Just play the video using SnapMotion and take a screenshot by clicking a button. It's that simple. In fact, you can even take automatic screenshots by entering the number of frames you want to take screenshots for. Overall, this is a very good tool if you want to take screenshots of a video.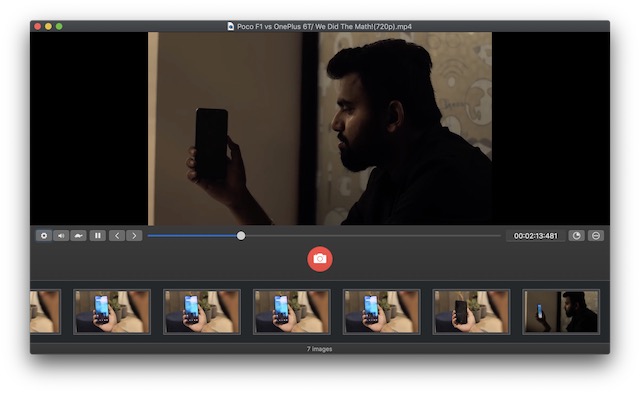 Install: ($8.99)
SEE ALSO: How to Delete an Instagram Account
Take a screenshot on a Mac using these methods
These were all methods for capturing screenshots on a Mac, and I think most of you will find the macOS screenshot tool and Apple's new screenshot app sufficient for your everyday needs. We also covered methods to change screenshot destination on Mac, change screenshot format, and even some great third-party tools for taking a macOS screenshot. If you encounter any issues, let us know about them in the comments below, and also let us know any third-party apps you think should be mentioned for taking screenshots on macOS Mojave.