How to Use FaceTime on Android in 2022 [Guide]
While the Google Play Store is full of remarkable video calling apps, many want to use FaceTime on Android to stay in touch with their iPhone-owning friends. In terms of top-notch features and security, Apple's video calling app is one of the best on the market. Unfortunately, Apple restricted FaceTime to the Apple ecosystem until iOS 15 and macOS 12 Monterey. But now, FaceTime is coming to Android and Windows. The sudden change in opinion may be due to intense demand for rival services, including Zoom and Google Meet, over the past year. Well, if you don't have an iPhone and want to try Apple's video calling service, let's see how you can set up and use FaceTime on Android!
How to Use FaceTime on Your Android Device in 2021
Before we go over the steps on how to use FaceTime on Android, let's first answer some important questions. Can you install FaceTime on Android? Can you share your screen in FaceTime calls on Android? We answer all these questions in this article. Then dive straight in!
How does Apple's FaceTime work on Android?
It's no secret that Apple wants to keep its famous apps and services tied to its closed ecosystem. Even as the Cupertino giant introduces its services on other platforms, it never fails to impose heavy limitations – for better or for worse. And the FaceTime for Android model is no different.
This brings us to the first question. Can you install Facetime app on Android? Well, Apple has yet to release a FaceTime app for Android. Instead, Android users can join FaceTime calls just through a link. So unless you get a link from an iPhone user, you won't be able to join the party.
Second, you cannot generate a FaceTime meeting invite link on an Android device. That means you'll need to ask your friend (who has an iPhone, iPad or Mac) to create a FaceTime meeting link and share it with you.
And third, FaceTime only supports Safari and Google Chrome. So, you have to open the FaceTime link in Chrome to start the call. After tapping the link, you will need to add your name and wait for your iDevice friend (or the one who created the link) to let you in.
Fourth, the answer to whether you can screen share in FaceTime calls on Android is no. Users can only share their screen on FaceTime on iOS 15. You can check out our linked guide to learn how it works.
Create a FaceTime Call Link on iPhone, iPad or Mac
As we discussed above, your friend who owns an Apple device will need to first create a FaceTime call link and share it with you. So, let's see how it's done!
To get started, launch the facetime app on your iPhone or iPad with iOS 15 or Mac with macOS Monterey.
2. Now, tap on the "create link" to generate a FaceTime meeting link.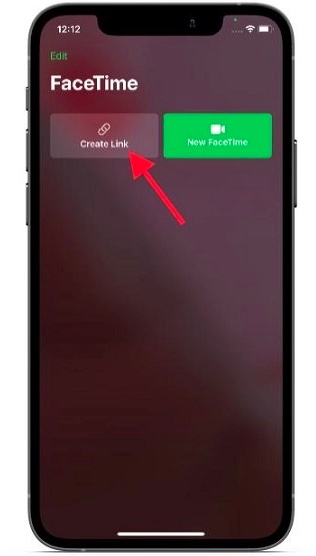 3. Then tap on the "Information" button next to the FaceTime link.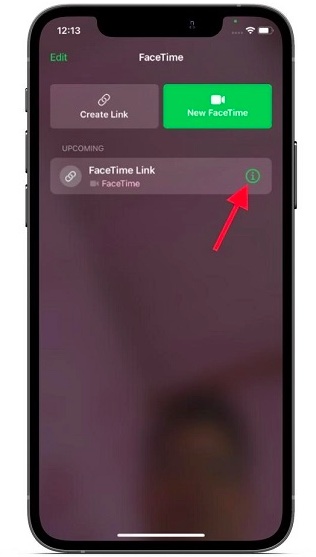 4. Then choose "share link" in the iOS 15 pop-up menu. On Mac, click the Share button.
5. After that, select the preferred method of sharing the meeting link with your friend who has an Android device. You may send the meeting link via email, WhatsApp, Messenger, Apple Messaging and more. In addition, you also have the option to copy the link.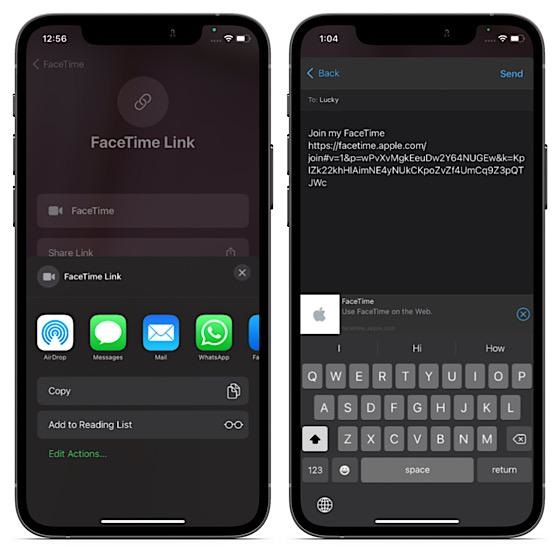 Join a FaceTime call from your Android device
Once you get the meeting link on your Android device, you can easily join the FaceTime call. Please note that FaceTime only supports Google Chrome on Android devices. Make sure you open the meeting link in your Chrome browser and follow these steps:
Tap the FaceTime link. After that, type your name and press the "Continue" button.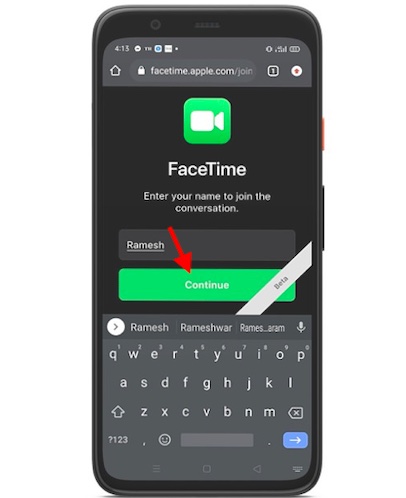 3. You will then get a popup saying: "facetime.apple.com wants to use your camera and microphone." tap on To allow to distribute the necessary permissions.
4. You are now just one step away from participating in a Facetime video call between iPhone and Android devices. Tap the green "join" at the top right corner.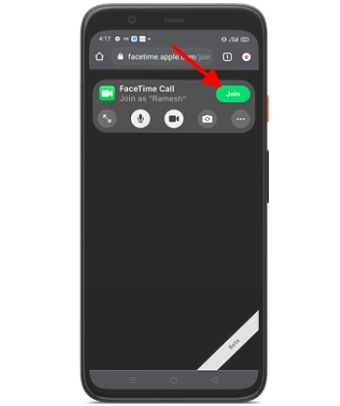 6. Now, you should see "Waiting for entry" at the bottom of the screen. You will be able to join the FaceTime call once your iOS friend approves your join request.
7. If you want to end the call, tap the "To leave" at the top right corner.
Add FaceTime App Icon to Android Home Screen
For quick access, you can add the FaceTime link to your Android device's home screen. So if you get a FaceTime meeting link, make sure you turn it into a super handy home screen icon that lets you join the call with a quick tap. Yes, this will save you from digging through the app, where you got the link, over and over again!
Interestingly, the FaceTime meeting invite link remains active for several days. So you can use the same invite link to join a meeting multiple times. While we're not sure how many days a FaceTime meeting link expires, we were able to use a 15 day FaceTime link to connect between iPhone and Android during our test. I know it sounds like a privacy nightmare, but no one can enter the meeting until the host lets them in.
So, let's see how you can add FaceTime app shortcut to android home screen. Just follow the steps below:
1. Open the facetime link in the Chrome browser on your Android device. Then tap the three-dot vertical menu icon in the upper right corner of the screen. After that, choose the option "Add to home screen" menu option.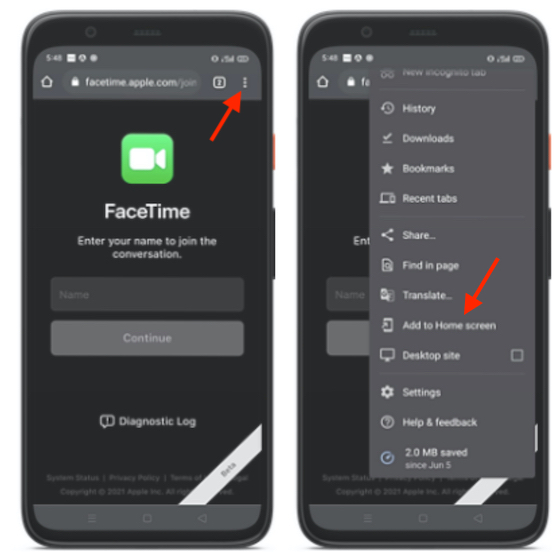 2. Then tap "To add" in the pop-up menu to confirm the action. Now go to the home screen and the FaceTime app shortcut will be waiting for you.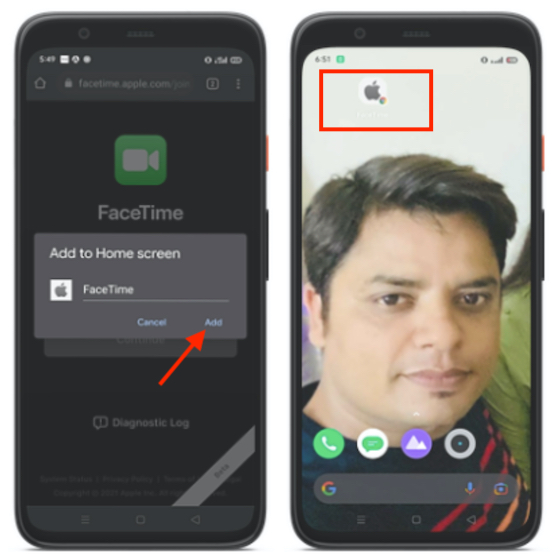 While a home screen icon can't replace a full FaceTime Android app, it sure is a more convenient way to join a call, especially if you talk to your friends or colleagues regularly.
Make FaceTime calls on your Android device
So, this is how you can join a FaceTime call from your Android device. While it would be better if there was a full FaceTime web app so you can do more than just join a meeting, it's a big baby step from Apple. The company finally lets Android and Windows users FaceTime with Apple device owners. What is your opinion on this great movement? Feel free to share your thoughts in the comments section below.