How to Use Focus Sessions to Increase Productivity in Windows 11
With the latest Windows 11 Insider Preview Build 22000.160, Microsoft has started releasing a cool Focus Sessions feature in the Clock app to help boost your productivity. The feature is part of Microsoft's ongoing efforts to improve the usability of system apps in Windows 11. Whether you're a productivity junkie or someone who wants to study or work in a more organized way, here's everything you need to know about Focus Feature sessions. We will teach you how to use Focus Sessions on Windows 11 effectively.
Use Focus Sessions to Increase Productivity in Windows 11 (2021)
Focus Sessions is currently being released to Windows Insiders on the Dev channel. If you've moved from the Windows 11 Dev channel to the Beta channel, you may need to wait until Microsoft expands the feature's availability. That said, if you're here after the stable release of Windows 11, you'll likely have the feature at launch.
What are Focus Sessions in Windows 11?
Focus Sessions is a Windows 11 productivity feature to help you focus on your studies or work. The feature essentially consists of a timer to track your activity and take occasional breaks (much like the Pomodoro technique), a dashboard to track your daily progress, and integrations with Spotify for music and Microsoft To Do to manage tasks.
Update Clock app to get focus sessions
Before we get to the part where I explain how the feature works, here's how you can get the new Focus Sessions feature in Windows 11. Focus Sessions is a part of the standard Windows alarms and clock app, and is available in version 10.2108.30.0 and later. If you're using an older version of the Clock app, you might not see Focus Sessions.
To get Focus Sessions on Windows 11, you can update the Windows Alarms & Clock app to the latest version available from the Microsoft Store. you can use this direct link to access the Clock app in the Microsoft Store. Click on the 'Update' button and wait for the application to update. The update was 6MB in size on the Windows 11 laptop I used to test Focus Sessions. Once you update it, you can start using Focus Sessions in the Clock app.
Link Spotify to Play Music During a Focus Session
After updating the Clock app, you will see a new Focus Sessions tab. Here, you can easily connect your Spotify account to the Clock app to listen to calm music during your study or work sessions. Learn how to do it here:
In the Windows Clock app, click 'Link your Spotify' button.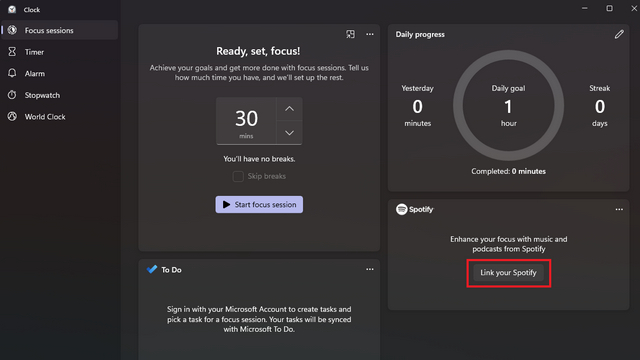 2. You will now be asked to login to your Spotify account. And before you ask, yes, you will have to log in even if you are logged into the Spotify desktop app. Just select your preferred login method to proceed.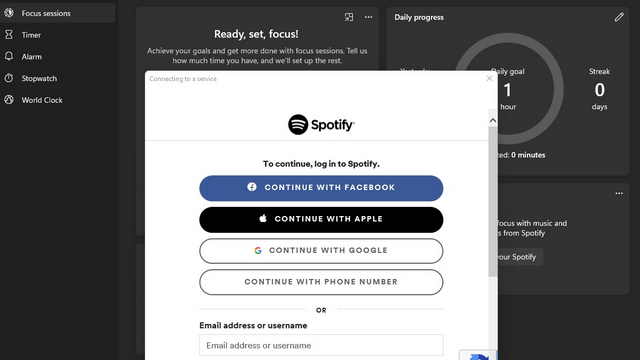 2. On the next page, click 'Agree' to link your Spotify account with the Focus Sessions feature in the Clock app.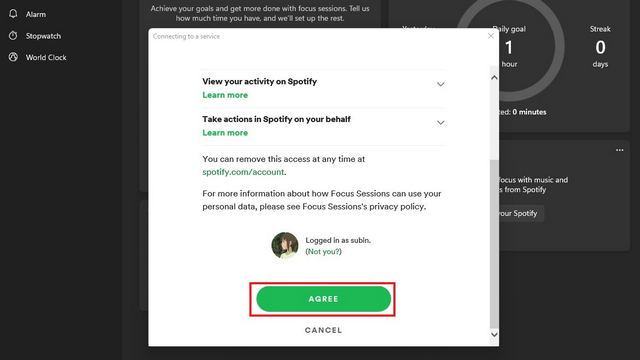 3. Now you'll see your Spotify account with six shortcuts (you know, the thing that pops up on Spotify's home screen with recently played playlists and podcasts? yes, that one) and a Focus section with six playlists.
My Focus section had the following playlists – Coding Mode, Deep Focus, Instrumental Study, Intense Study, lo-fi beats and Peaceful Piano.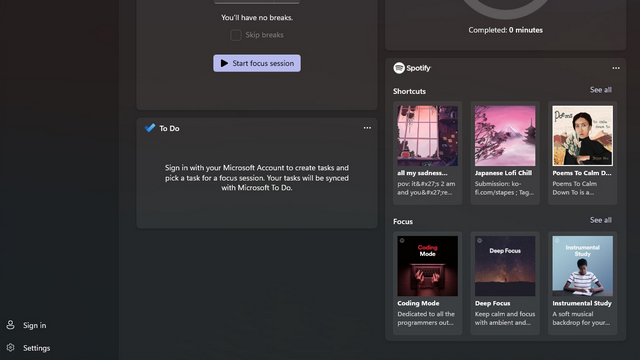 Link Microsoft Account to Manage Tasks in Focus Session
If Microsoft To Do is your preferred reminder app, you can create and manage tasks right from the Focus Sessions screen.
1. To get started, click on the 'Sign In' button in the bottom left corner of the Clock app.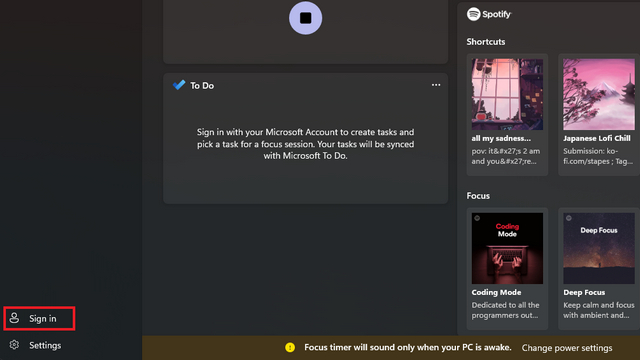 two. Choose the Microsoft account you use with To Do and click 'Continue'.
3. When the prompt appears, allow the Alarms app to read your profile, create, read, update and delete your tasks and plans by clicking the 'Yes' button.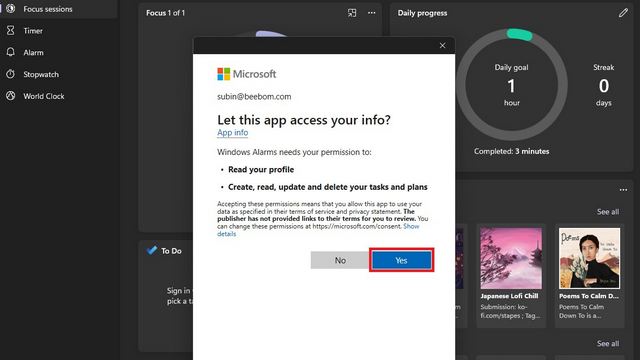 4. You are now ready to use Microsoft To Do to manage tasks during Focus Sessions on Windows 11. In the first version I tested, the feature did not work as expected and kept loading. However, the issue should be fixed when Microsoft releases the stable version of Windows 11 later this year.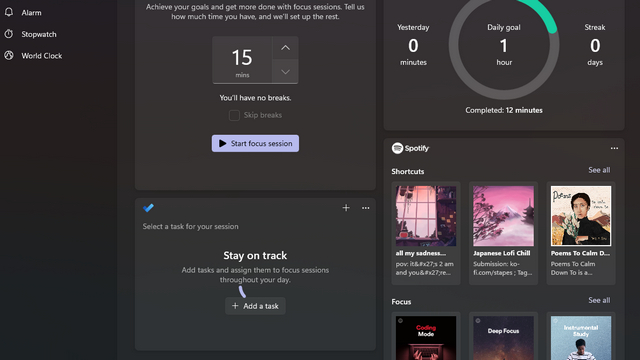 How to Use Focus Sessions in Windows 11
Now that you've linked Spotify and your Microsoft account to the Clock app, here's everything you need to know to get started with Focus Sessions.
Set a focus session timer
From the Focus Sessions home page, you can set a timer before you start studying or working. While it is not yet possible to manually enter the duration of time, you can choose from a set of durations available for Focus Sessions. There are 15 minutes, 30 minutes, 45 minutes (1 intermission), 60 minutes (1 intermission), up to 240 minutes with 8 intervals.
If you prefer to work without breaks, check the 'Skip breaks' checkbox. When ready, select one of the Spotify playlists and hit the 'Start Focus Session' button.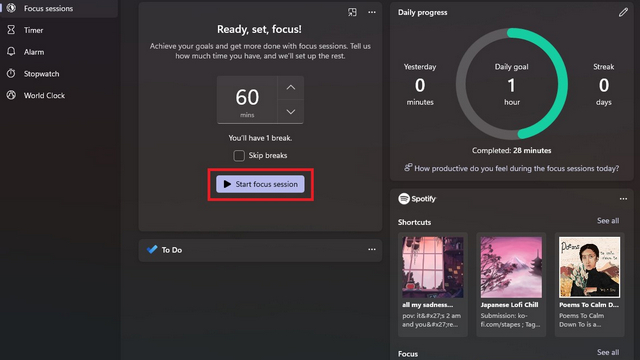 Pop-out focus session timer
You have the option to minimize the focus session so that you can easily follow it on the working screen. To minimize, click on the pop-out button present in the upper right corner of the timer.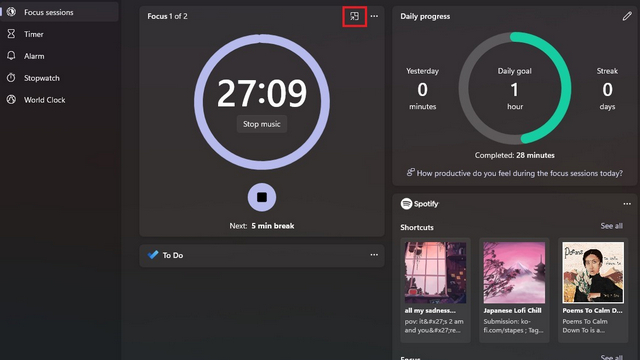 You can check out the minimized version of the timer below. It is worth mentioning that you can resize this window if you prefer a larger view with the countdown timer.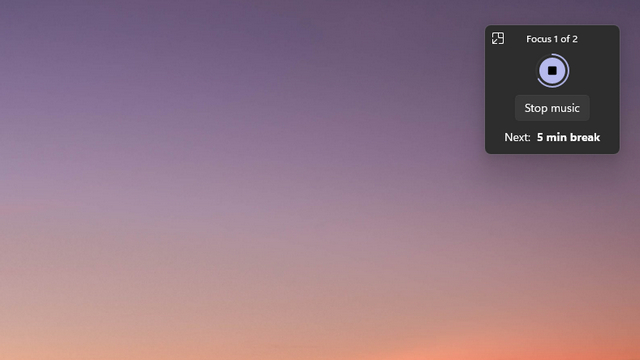 Next to the timer, you'll see a daily progress block that tracks your productive hours. In addition to the daily goal, it shows the hours you worked the previous day and a sequence of days when you reached your daily goal. I hope it serves as a good motivation to keep you going.
Customize Windows 11 Focus Sessions
While there isn't much room for customization, there are a few tweaks you can make to improve your experience using Focus Sessions. It includes settings to adjust the break period, disable unwanted home screen features, and change daily target hours.
Change interval period in focus session
The default break period is 5 minutes, but you can change it to 10 minutes or 15 minutes on the Clock app's settings page. You can choose the break period based on your preference.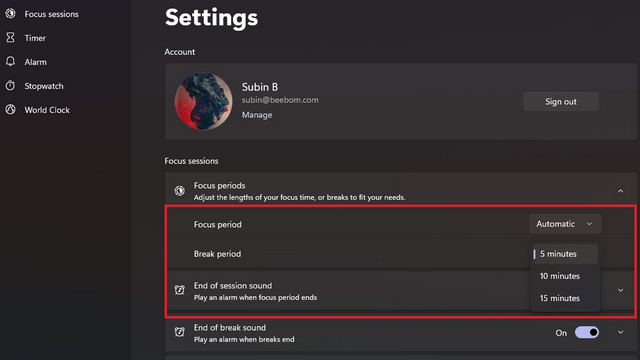 Disable Spotify and Microsoft To Do Integration
If you don't use Microsoft To Do or Spotify, you can choose to turn them off from the Focus Sessions homepage. Open the Clock app settings from the left side menu and you find toggles to disable Spotify and To Do integration. You can also choose to turn off the sound that plays while a session or break ends on this page.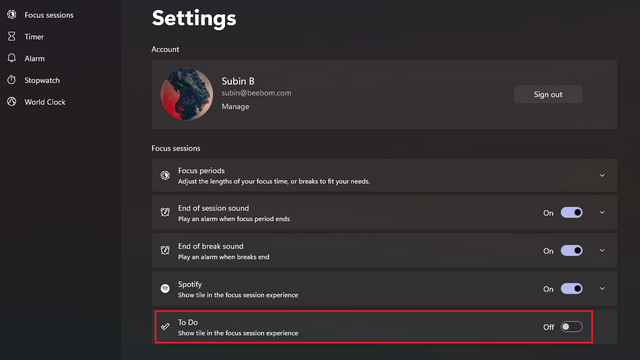 Adjust the daily goal for focus sessions
If you think the default daily goal is a little less (or more) for you, you can change that as well. Click the pencil icon in the daily progress block and choose a time that best suits your workflow.
How Microsoft can improve focus sessions in Windows 11
Having used Focus Sessions for a few hours, here are a few things I've found that can improve the feature. As this is the first release, we can expect the company to improve Focus Sessions in the coming months.
At this time, there is no option to pause a Focus Session. You need to stop the session or keep it running while not necessarily working. While I understand that some users may prefer the added pressure to stay focused, I don't think this approach works for everyone.
There were times when I had to quickly move away from the keyboard to do something else, and that forced me to restart the session. Putting a pause button shouldn't hurt, at least behind a toggle in settings.
Improve Spotify integration
When I first saw Microsoft Chief Product Officer Panos Panay tease Focus Sessions a few weeks ago, I was excited to try out Spotify integration. Well, as it turns out, it's a little… disappointing. Don't get me wrong, having access to Spotify within Focus Sessions is nice, but it can be better.
So where does Spotify integration go wrong? For starters, I would say Shortcuts. Spotify shortcuts list the playlists and podcasts you've recently listened to, as opposed to a playlist you want (or enjoy) playing while you focus on work. Just because I've listened to a playlist recently doesn't mean I want to play it while trying to focus.
A classic example can be seen in my screenshot below. The first shortcut listed here is my playlist with sad songs. Honestly, I would rather work while listening to something that helps me calm down and focus. The rest of the suggestions don't seem to help either (except for the Japanese lo-fi Chill playlist I tend to tune into as I work). And no, I'm not planning to create a Spotify account dedicated to this feature (and neither should you).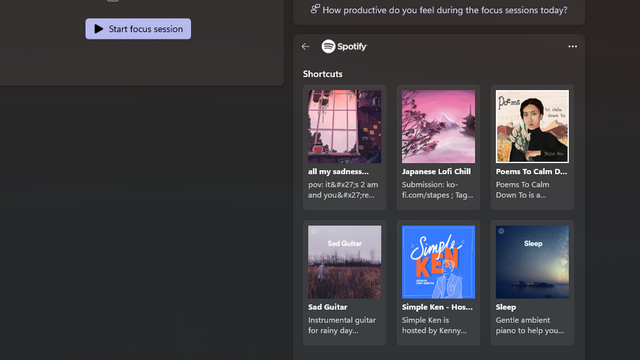 What is a better solution? Playlists. Just plain old playlists. Give us the option to browse our saved playlists and let us choose them, preferably with a quick way to pin favorites. This would be a better use of space than the current Shortcuts block. The Focus playlist block below Shortcuts is good and I have no complaints.
While we're at it, an option to control music playback – next, previous and play/pause would also be appreciated. At the moment, users need to switch to Spotify app to change songs. And you know what happens when you switch apps – you see an album release by your favorite artist or a new podcast episode. And before you know it, you're checking all the tracks instead of doing things.
Add Focus Assistant Shortcut
Focus Assist is a nice feature in Windows for silencing notifications in Windows 11. Since the Focus Sessions feature is all about eliminating distractions, it will be nice to see Microsoft add a tile to trigger Focus Assist directly from this page. In this way, Focus Sessions can evolve into a centralized hub for all things productivity in Windows 11.
Add support for third-party apps
This may seem obvious, but not everyone uses or prefers Microsoft To Do or Spotify. We'll have to wait and see if Microsoft has plans to open up the feature to popular third-party Spotify alternatives and other to-do list apps.
Try Focus Sessions on Windows 11 and Work Efficiently
So that sums up everything you need to know about Focus Sessions on Windows 11. If you're looking for more ways to stay productive at home during these tough times, check out our article on the best apps to focus on work which also has some. useful tips. To find out how much time you've spent using your laptop, see our handy guide to checking screen time in Windows 11. For more Windows 11 features, take a look at the best Windows 11 features.